Tanzania e-Visa requirements for Senegalese citizens
Tanzania is quickly becoming one of the most popular African countries, with over 2 million tourists visiting last year. Tanzania is well-known among travelers for having 16 national parks, Mount Kilimanjaro (Africa's highest point), and even the tropical island of Zanzibar.
If you are already planning a trip to Tanzania, keep in mind that all Senegalese citizens are required to have a visa in order to enter the country. Fortunately, thanks to a new initiative launched by the Tanzanian government last year, there is an e-visa program available to Senegalese travelers.
This new e-visa program allows you to apply for a Tanzania visa online from Senegal, eliminating the need to visit a local embassy, gather paperwork, or meet with an immigration official in person. The application takes less than an hour to complete, and your visa will be ready in 3 business days.
If you'd like to learn more and apply, we've put together the following article, which covers the new e-visa program, visa requirements, and how to apply.
1. What is the Tanzania e-Visa for Senegalese citizens?
Certain countries require visitors to apply for a consular visa at a Tanzanian embassy; Senegalese, on the other hand, can apply for a visa to Tanzania online.
In 2018, Tanzania implemented an electronic visa, or e-Visa, for certain nationalities, including Senegalese. The applicant must fill out a simple online application form from the comfort of their own home or office in this simplified system.
The e-Visa system is the most convenient way to obtain a Tanzania tourist visa. Visitors to Tanzania can obtain a variety of visas depending on their purpose for visiting.
Visitors with a valid Tanzania e-Visa from Senegal can avoid long lines at the border and enter the country quickly and easily.
Tanzania e-Visa for Senegalese citizens.
2. Types of the Tanzania e-Visa for Senegalese citizens.
As previously stated, Senegalese citizens can now obtain a Tanzania visa more easily than ever before. This means no more waiting in embassy lines, face-to-face interviews with immigration officials, or stacks of paperwork. The first and most important step is to determine which type of visa you require and then apply for it.
Let us start with the basics: the various types of Tanzanian visas. Although there are more than four different types of visas, the most common is the single-entry tourist visa. Here are several examples:
A single-entry tourist visa for Tanzania allows the traveler to stay in Tanzania for a maximum of three months for tourism/holiday, medical tourism, and other purposes with 90-day validity e-visa..
A multiple-entry tourist visa is designed for people who visit the country frequently. The applicant must be invited by a Tanzanian citizen and provide documentation in order to be considered for a Tanzania multiple-entry visa. The visa allows visitors to stay in Tanzania for a maximum of three months in a row and is valid for a year.
Tanzania transit visa allows travelers to transit through the country to their next destination for a maximum of 7 days. This visa is only valid for 7 days from the date of arrival.
Professionals planning to visit or invest in Tanzanian companies can apply for a Tanzania business visa. The visa's validity period is 3 months from the intended date of entry and allows 3 months to stay in Tanzania.
3. Tanzania visa requirements for Senegalese citizens.
Following your decision on the type of visa you require, the next step is to gather the required documents and paperwork in order to begin an online application for a Tanzanian visa. Citizens of Senegal must currently possess the following documents:
A passport from Senegal must be current and valid for at least six months from the date you plan to arrive in Tanzania.
Biometric passport page - A copy of your biometric passport page must be uploaded. The first page of a passport usually contains the traveler's photo and personal information (passport number, full name, expiration date, and so on).
You must submit a recent photograph of yourself taken within the last six months, with your face centered and clearly visible.
A Basic Travel Itinerary - As part of the application process, you will be required to submit a basic list of your travel plans to ensure that they fall within the Tanzanian tourist visa limit of three months. Check that your next stop is clearly marked on your ticket (either to another destination or back home).
For business e-visa, you must submit an invitation letter and company COI.
For tourist e-visa, travelers must proof by showing the ID card and a letter from their acquaintances in Tanzania.
A valid email address - You must enter a valid email address in order to receive notifications about the status of your Tanzania visa.
A valid payment method - To pay the visa fees, you must have a valid debit or credit card.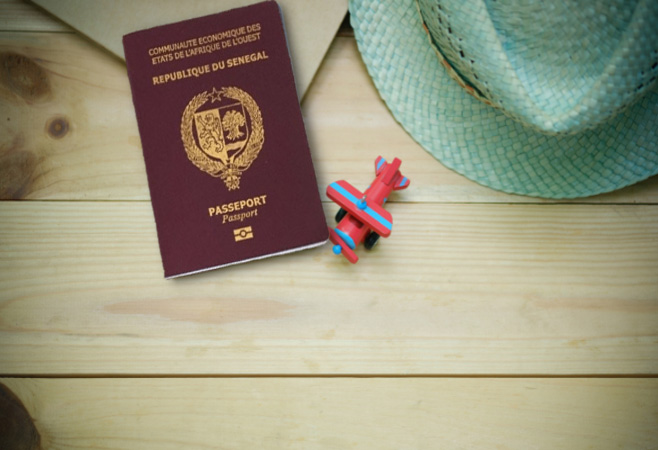 Tanzania visa requirements for Senegalese citizens.
4. How to apply for a Tanzania Visa from Senegal?
To obtain a Tanzania visa online from Senegal, Senegalese citizens must complete the application form, provide all of the previously mentioned documentation, and pay the eVisa fee. The following information will be required on the application form:
Personal information: full name, birth date, and country of citizenship
Passport information
The trip's specifics are as follows: intended entry date and purpose of the trip
Applicants must ensure that their information is accurate and up to date. Incorrect information can cause issues and result in the eVisa being denied.
Applicants will see a confirmation message of the successful submission of the form at the end of the application form once all of the information has been correctly filled out.
The application is typically processed within one to three days. Emails will be sent with eVisa status updates. After submitting an online application, an applicant may be invited to an interview at an embassy or consulate. This is, however, extremely rare.
Travelers should print and keep the eVisa confirmation with them in case they need to show it at border control. They must also bring all documents requested during the online application process.
Read more: Apply for a Tanzania Visa Online (e-Visa).
Apply for a Tanzania Visa from Senegal.
5. Cost of Tanzania visa for Senegalese passport holders.
The price of a Senegalese visa in Tanzania varies depending on the type of visa and the number of entries made by the applicant during his or her stay. You must pay two (2) types of visa fees when applying for a Tanzania visa from Senegal: service cost and government cost.
The government fee is mandatory because this fee will be paid to the Tanzania government to process your e-visa application. However, the Service fee can be changed and adjusted depends on which processing services you want to apply for:
Normal: The e-visa will be processed within 3 business days.
Urgent: The e-visa will arrive in 2 business days.
Super Urgent: Your e-visa approval will be sent to your email in 24 business hours or less.
Read more: Tanzania e-Visa fees.
Instead of waiting weeks for your local embassy to process your visa application, you can get your e-Visa quickly without going to the Embassy or Consulates. Fill out an e-Visa application from your computer, tablet, or phone and wait for it to be sent to you via email.
Read more: Tanzania Visa processing time.
When you have COVID-19 Insurance, your traveling experience will be more amazing and guaranteed at this time.
Tanzania visa for Senegalese passport holders.
Useful information:
Government Update
Last Update: 04/2023
From April 2023, Senegal passport holders are NOT eligible for Tanzania e-visa and they can apply for a visa at the Tanzania Embassy.