Tanzania visa for Tunisian citizens: Requirements and Fees
Anyone visiting Tanzania with a Tunisia passport must apply for a Tanzania visa for Tunisian citizens. A new system, much more efficient than applying in person, has recently been introduced for several nationalities, including Tunisians. Visas for Tanzania can be obtained in advance of travel through the electronic visa (e-Visa) application system, which allows visitors to apply online before leaving their home. The simple electronic application form is simple to use and allows applicants to pass through immigration and border control much more quickly.
1. Tanzania e-Visa for Tunisian citizens.
The Electronic Visa (e-Visa), also known as Visa Online, has emerged as one of the most innovative services in the field of free movement and person-to-person contacts.
Tanzania's government introduced the Tanzania Electronic Visa (e-Visa) in 2018 to facilitate the visits of short-term international visitors.
Tanzania e-Visa enables the entire visa application process to be managed online. The visa application and supporting documents are submitted online, payment is made online, and the application decision is communicated online.
The tourist e-Visa, once approved, allows Tunisian passport holders to stay in Tanzania for a maximum of 90 days on each trip.
2. Tanzania visa requirements for Tunisian citizens.
When applying for a Tanzania e-Visa, the following documents and information are required in accordance with Tanzania visa policy:
A Tunisia passport that has a validity of at least 06 months from the entry date in Tanzania, with 02 unused pages for entry/exit stamps.
A photo of the biographical page of the Tunisia passport.
A passport-style photograph. This photo must contain a clear face against a white background, with your face in the center.
Flight Ticket/Return Flight ticket.
A credit or debit card with which to pay the Tanzania e-Visa fee.
An email address. You will receive the confirmation of the visa order and the result of your Tanzania visa application via email.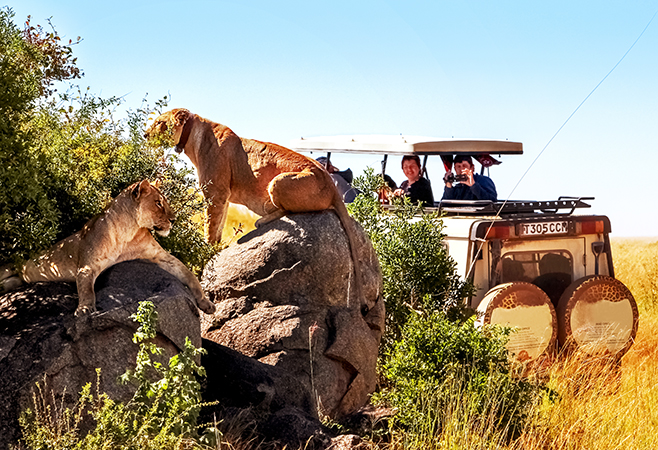 3. Types of a Tanzania visa for Tunisian citizens.
Tunisian citizens can obtain a Tanzania visa in a variety of ways. They can choose from a variety of travel permits based on the purpose of their visit and the length of time they plan to spend in Tanzania.
Following are the types of Tanzania e-Visa for Tunisian citizens:
Single-entry tourist e-Visa: A single-entry tourist visa for Tanzania allows the traveler a single stay of up to three months in the country from the arrival date for tourism and leisure, short-term health treatment, or any other activity permitted by Tanzanian law.
Multiple-entry Tourist e-Visa: The multiple-entry e-Visa is intended for Tunisian nationals whose business or other obligations necessitate frequent visits to Tanzania. To obtain this e-Visa, the Tunisian applicant must submit a Host ID card/passport, an invitation letter from Tanzania citizens, and a return flight ticket. With this type of e visa, Tunisian travelers can enter Tanzania many times, and the staying time for each trip is not exceeding 03 months.
Transit e-Visa: A transit visa is valid for 07 days from the date of entry, and available for travelers who want to transit in Tanzania on their way to another country or have a short trip for no more than 07 days.
Business e-Visa: A Tanzania business visa is issued to Tunisian citizens who are visiting the country to fulfill professional obligations, conduct research, or hold business meetings. This visa allows a stay of up to 03 months from the arrival date with a single entry into the country. The Tunisian applicants need to provide An invitation letter and the company COI to obtain a Tanzania business e visa.
4. How to Apply for a Tanzania visa for Tunisian citizens online?
Obtaining a Tanzania visit visa from Tunisia is simple and straightforward. Tunisians can apply for an e-Visa to visit the country for tourism purposes by filling out the online form and following these simple steps:
Fill out the following personal information on the online Tanzania Visa application form:
Full name.
Gender.
Date of birth.
Nationality.
Fill in the blanks with your passport information, which should include:
Passport country.
Passport number.
Passport date of issue.
Passport expiry date.
Enter your contact information to receive your Tanzania e-Visa and visa application notifications. These are some examples:
An email address.
A mobile phone number.
Before submitting your application, double-check all of the information you have entered because any discrepancies or errors can cause your Tanzania e-Visa to be delayed.
Your approved e-Visa will be sent to the email address you provided in the application form.
Read more: Apply for a Tanzania Visa Online (e-Visa).
5. Tanzania visa fees for Tunisian citizens.
Tanzania Immigration Services is proud of its ability to provide excellent service at a reasonable cost. The cost of your visa is determined by the type of visa you select as well as the processing time you select.
To apply for a Tanzania visa for Tunisian online, you must pay two (2) types of visa fees: service fees and government fees.
Read more: Tanzania e-Visa fees
Here are your options:
Tanzania e-Visa Standard: A standard e-Visa for Tanzania is processed in three business days. It's a good option for non-urgent and low-budget requirements.
Tanzania e-Visa Urgent: If you select this option, your visa will be processed within two days.
Tanzania e-Visa Super urgent: The application will be completed within one day.
Read more: Tanzania Visa processing time.
In this time, the traveling trip will be more amazing and guaranteed, when you have COVID-19 Insurance for your benefit, in case the risk can happen.
6. Tanzania visa from Tunisia.
The Tanzania e-Visa is usually processed within a few days after applicants submit their application. Applicants should be aware that extra time may be required during peak periods.
When the application is received, it is recommended that the applicant print a copy to bring with them on their trip to Tanzania. This is in case border officials require a physical copy in the unlikely event that the electronic system fails.
The tourist visa then allows the holder to enter Tanzania through any seaport, certain land ports, and airports. Among the airports are:
Julius Nyerere - DAR - Dar es Salaam.
Kilimanjaro - JRO - Kilimanjaro.
Mwanza - MWZ - Mwanza.
Abeid Amani Karume - ZNZ - Zanzibar.
Useful information: