Tanzania e-Visa requirements for Togolese citizens
You will need a visa to enter Tanzania if you are a Togolese citizen traveling for business or tourism. Previously, this was a complicated process, but the Tanzanian government has introduced a simple online application form that allows Togo travelers to apply for a Tanzania visa in 2018.
1. Types of the Tanzania e-Visa for Togolese citizens.
The online application can be used for any type of Tanzanian visa. It's critical to select the proper categories of visa for your needs, depending on why you're traveling and how long you intend to stay:
A single-entry tourist visa for Tanzania allows the traveler to enter this country once only and to stay within 03 months for travel, tourism, short-term health treatment, or other activities permitted by Tanzanian law.
A multiple-entry Tanzania tourist visa for Togolese is designed for those who visit the country frequently. This visa is valid for 12 months from the arrival date and allows travelers to stay in Tanzania for up to three months on each visit.
A transit visa is available for visitors stopping in Tanzania on their way to another destination who plan to stay for no more than seven days.
A Tanzania business visa is available for professionals working temporarily in the country or for anybody wishing to engage in Tanzania business. The visa is valid for three months, allowing Togolese nationals to enter the country once and stay for three months from the date of arrival. 
Tanzania e-Visa for Togolese citizens.
2. Tanzania visa requirements for Togolese citizens.
Togolese citizens must submit supporting documentation that matches the e-Visa requirements for Tanzania when using the online application form. You must submit a scanned digital version of the following documents:
When arriving in Tanzania, you must have a Togo passport valid for at least 06 months, with at least 02 unused pages for verification.
A copy of the passport biographical page with the applicant's full name written on it.
A passport-style photograph of the applicant's face.
A flight ticket is submitted for processing tourist and transit e-visa. 
If you want to apply for a Tourist multiple-entry 1-year e-visa, you must also provide an invitation letter from a tour host, as well as his or her ID. 
A letter of invitation from the organization and a company COI are required for a Business e-visa.
Togolese visa fees vary depending on the type of visa and length of stay and can be paid with a credit card at the time of application. The new electronic system is expected to shorten the transition period for those who have applied for the visa ahead of time. It is hoped that Tanzania will become more appealing to Togolese citizens traveling for business or pleasure.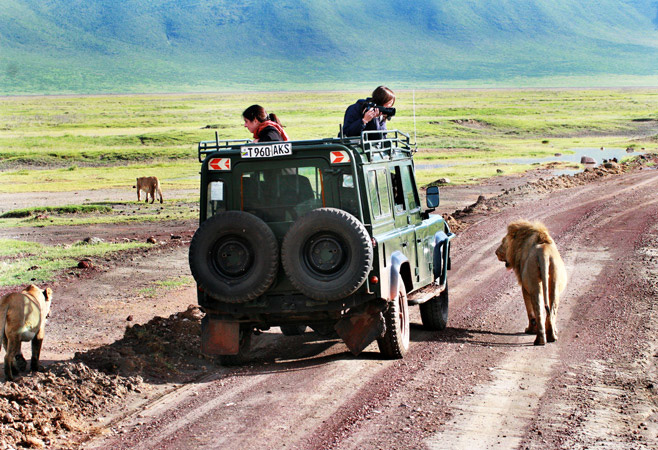 Requirements of Tanzania visa for Togolese citizens.
3. How to apply for the Tanzania e-Visa from Togo?
Travelers should fill out the Tanzania eVisa application online after ensuring that they meet the Tanzania visa requirements for Togolese and selecting the appropriate visa type.
Each applicant must provide the following vital personal and passport information when filling out the form:
Full name
Date of birth
Place of birth
Nationality
Passport numbers
Date of arrival in Tanzania and departure. 
If all of the information entered is incorrect, the visa process may be delayed.
As part of the eVisa application process, all Togolese citizens are also asked to provide a current email address, where they will receive information and updates on their visa status. Following the application review, the visa's approval or denial details will be sent to the same email address. Applicants are only recommended to book flights or accommodations once they have received visa approval confirmation.
Read more: Apply for a Tanzania Visa Online (e-Visa).
Apply for the Tanzania e-Visa from Togo.
4. Cost of Tanzania visa for Togolese passport holders.
Tanzania visa fees for Togolese citizens vary depending on the kind of visa and the number of entries made during the applicant's stay. When applying for a Tanzania visa from Togo, you must pay two (2) types of visa fees: the Service fee and the Government fee.
Read more: Tanzania e-Visa fees.
You may acquire your e-Visa immediately instead of waiting weeks for your local embassy to process your visa application. All you have to do is apply for an e-Visa from your computer, tablet, or phone and wait for it to come by email. You can choose from the following processing times: 
Tanzania Standard e-Visa: is processed in 03 business days. It's a good option for non-urgent and low-budget requirements.
Tanzania Urgent e-Visa: If you select this option, your visa will be processed within 02 business days.
Tanzania Super Urgent e-Visa: The application will be completed within 01 business day.
Read more: Tanzania Visa processing time.
When you have COVID-19 Insurance, your traveling experience will be more amazing and guaranteed at this time.
Tanzania visa fees for Togolese passport holders.
Useful information: