Traveling To Tanzania From Nigeria To Discover The Jewel Of Africa With Us
By Katie May
Embark on an unforgettable adventure to Tanzania, the vibrant jewel of Africa, and experience a kaleidoscope of awe-inspiring landscapes, rich cultural heritage, and abundant wildlife. From Nigeria, a gateway to the wonders of East Africa, this enthralling journey promises to immerse you in the very essence of this remarkable destination. Prepare to be captivated by the beauty of Tanzania as we guide you through an enticing itinerary that will leave you longing for more.
In this article, we will delve into the wonders of Tanzania and provide you with essential information to plan your travel to Tanzania from Nigeria.
Entry Requirements You Need To Know Before Travel to Tanzania From Nigeria
What types of Tanzania visas for Nigerian citizens apply for?
To apply for a Tanzania visa for Nigerian citizens, Nigerians must select one of 4 Tanzanian visa types: single-entry, multiple-entry, business visa, or transit travel permit. One visa option may be preferred over another, depending on the reason for the travel.
Tourist single-entry visa: Nigerians may use this visa for trips, tourism, leisure, vacations, conferences, humanitarian and charitable endeavors, family visits, medical treatment, or similar purposes. Visitors may remain for up to 90 days using this card, which is valid for 90 days after the date of arrival. 
Tourist multiple-entries visa: This visa is offered to citizens of Nigeria whose travel may require numerous stops in Tanzania. It is valid for one year from the date of arrival and allows travelers to remain for up to three months. 
Business visa: Nigerians intending to enter Tanzania for business would prefer this visa, which is valid for 03 months.
Transit visa: This visa is valid for 7 days from the arrival date and suitable for short trips within 7 days. 
Traveling to Tanzania from Nigeria to discover the jewel of Africa with us 
All about Tanzania visas requirements for Nigerian citizens
Nigerian nationals must first determine the precise visa type they need in order to apply for a Tanzanian visa. They can then proceed to collect the necessary papers and documents for the application procedure after deciding on the proper visa category. The conditions for obtaining a Tanzanian visa for Nigerian citizens are as follows:
Your Nigerian passport must be valid for at least 06 months from the arrival date and have at least 2 blank pages for stamping.
Biometric passport page - A scan of the biometric information page of your passport must be submitted. The traveler's portrait and personal data are typically located on page one of the passport.
A digital passport-style photo - You should obtain a photograph of yourself that was taken within the recent six months in which your face is clearly visible in the middle of the frame.
A valid email address - Provide a valid email address to keep you updated on the progress of your Tanzania visa application.
A valid payment method - To cover the cost of your visa application, you will need a credit card or debit card. PayPal or American Express is also acceptable.
A letter of invitation and the host's identification is required to apply for a Tourist e-visa, valid for multiple entries within a year.
For a Business e-visa, you will need a letter of invitation from the organization company and a certificate of incorporation.
A return flight ticket is also required.
Tanzania visas requirements for Nigeria citizens 
How To Travel To Tanzania From Nigeria
Direct Flight to Tanzania from Nigeria
The most practical means of transportation from Nigeria to Tanzania is by plane. There are frequent direct flights to Tanzanian towns like Dar es Salaam and Kilimanjaro from major Nigerian cities like Lagos and Abuja. Depending on the route and airline chosen, the flight length varies.
Connecting Flight to Tanzania from Nigeria
If there are no direct flights, you might have to take a connecting flight through another city. Many airlines provide either direct or connecting flights between the two nations. Here are some airlines to consider:
Ethiopian Airlines: Ethiopian Airlines is a common option for passengers from Nigeria to Tanzania. They provide connecting flights to a number of Tanzanian cities, such as Dar es Salaam and Kilimanjaro, from Nigerian airports in Lagos and Abuja.
Kenya Airways: Offers connecting flights to Tanzania with choices to land in Dar es Salaam or Kilimanjaro from Lagos and Abuja. For these flights, a frequent stopover location is Nairobi.
Turkish Airlines: Offers connecting flights from Nigerian airports to Tanzania, usually with an Istanbul stopover. Flying is an option for getting to places like Zanzibar, Kilimanjaro, and Dar es Salaam.
RwandAir: Another airline that offers connections between Nigeria and Tanzania is RwandAir. You may take a flight to Kigali, Rwanda, from Lagos or Abuja, and then connect to a number of Tanzanian locations.
Land and Sea
Both land and maritime travel are options for getting from Nigeria to Tanzania, but they take a long time and need several border crossings. Before arriving in Tanzania, you will have to pass through many East African countries, including Cameroon, the Central African Republic, Sudan, and Kenya.
Land and maritime travel are options for getting from Nigeria to Tanzania 
Choosing The Right Time To Visit Is The Key To Discovering Beautiful Tanzania
Climate and weather patterns in Tanzania
Tanzania has a tropical climate that varies by region and altitude. The coastal areas, including Zanzibar and Dar es Salaam, have a tropical climate with high temperatures and humidity year-round. Inland regions, such as the Serengeti and Ngorongoro Crater, have a more temperate climate with warm days and cooler nights. 
The country has distinct wet and dry seasons, with the wettest months typically from March to May and November to December. The dry seasons, from June to October and January to February, are popular for wildlife viewing and outdoor activities. When planning a trip to Tanzania, considering the climate and weather patterns is crucial to ensure a comfortable and enjoyable experience.
Read more: A Complete Guide On The Best Time To Go To Tanzania
Peak tourist seasons and considerations
The best season to visit Tanzania is during the long dry season, which falls from July to September. These are considered the best months for safaris, the Great Migration, trekking, and beach holidays in Zanzibar.
Of course, these months are peak travel seasons. They will be busier, and some lodges, hotels, and parks will apply higher rates. If you prefer a more secluded experience, consider visiting during the short rainy season from the end of October to December.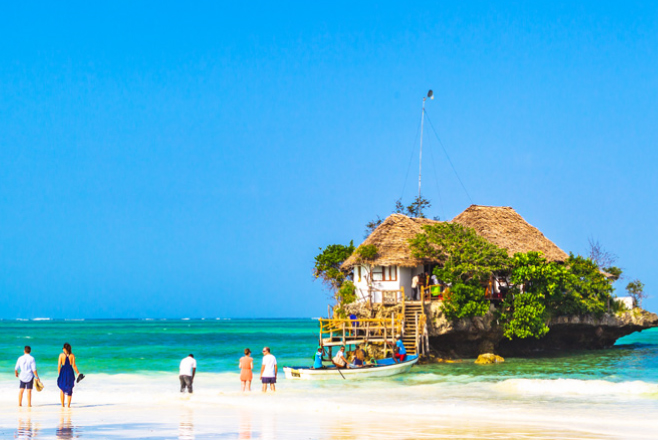 Choosing the right time to visit is the key to discovering beautiful Tanzania 
Remember to exchange currency before traveling to Tanzania
The official currency of Tanzania is the Tanzanian Shilling (TZS). Obtaining some Tanzanian Shillings before your trip is recommended to have local currency for initial expenses upon arrival. 
Foreign currency can be exchanged at banks, exchange bureaus, and hotels. You can withdraw local currency from ATMs using your debit or credit card. It's also a good idea to have a backup payment method, such as a second card or cash, in case of ATMs or card acceptance. Don't forget to Inform your bank about your travel plans.
Traveling to Tanzania from Nigeria is fantastic, full of amazing vistas, unique animals, and exciting cultural encounters. To begin an exciting journey across Tanzania, where breathtaking scenery and an abundance of animals await, apply for a visa. If you need support, contact Tanzania Immigration Services, and we'll help! Cheers to your journey!