Exploring The Unique Culture Food In Tanzania
By Jenna Jolie
Tanzania is a land of stunning natural beauty, diverse cultures, and vibrant traditions. Situated in East Africa, the country is known for its vast wildlife reserves, picturesque beaches, and towering mountains. But beyond its breathtaking landscapes, Tanzania is also a food lover's paradise. With its unique blend of indigenous and foreign culinary influences, the country boasts a rich and diverse food culture that is a delight to explore. In this article, we will explore the famous food in Tanzania and why it is a must-visit for foodies.
THE BEST FOOD IN TANZANIA
Ugali
Ugali is a staple food in Tanzania and other East African countries, including Kenya, Uganda, Rwanda, and Burundi. Ugali is often eaten with a utensil, but it can also be eaten with the hands. It is a dense, starchy dish that is often served with a variety of soups, stews, or vegetables.
Ugali is a versatile dish that can be flavored in different ways, depending on the region and the accompanying dish. In Tanzania, it is often served with sukuma wiki (a leafy vegetable), nyama choma (grilled meat), or mchicha (a spinach-like vegetable). It can also be made with different types of flour, such as millet, sorghum, or wheat, depending on availability and preference.
Ugali is not only a popular food in Tanzania but also a cultural symbol. It is a dish that is associated with family gatherings, celebrations, and communal meals. In many households, ugali is prepared in large quantities, and leftovers are kept for the next day or used to make other dishes, such as chapati or mandazi.
Ugali has become a favorite dish among locals and tourists alike due to its simplicity, affordability, and versatility. It is a must-try dish for anyone visiting Tanzania, as it offers a glimpse into the country's food culture and way of life.
Ugali is a popular food in Tanzania
Wali na Maharage
Another popular traditional food in Tanzania is Wali na Maharage, often served in homes, local restaurants, and street food stalls. Wali maharage is traditionally made by first cooking the beans and then adding them to the rice to cook together. It's usually seasoned with salt and oil.
The rice and beans are cooked separately in modern versions of wali maharage. In which beans are roasted with different spices combined with some types of tubers such as onions, carrots, green peppers, and tomatoes. When the rice is finished, it is served on a plate, while the beans are served separately in a bowl. A spoon is used to eat wali maharage.
Wali na maharage is a delicious and nutritious dish. So, whether you are exploring the national parks, visiting the beaches, or learning about the local culture, be sure to savor the flavors of wali na maharage.
Wali na maharage, a combination of red beans and rice is another traditional food in Tanzania
Nyama Choma
In Swahili, Nyama choma means "barbecued meat" and denotes a dish made from lightly seasoned roasted meat. It is a famous food in Tanzania that is enjoyed by people of all ages.
The dish consists of grilled meat, usually beef, goat, or chicken, seasoned with a blend of spices and herbs and cooked over an open flame or charcoal grill.
To prepare nyama choma, the meat is marinated in a blend of spices and herbs, such as garlic, ginger, cumin, coriander, and paprika, for several hours or overnight. It is then skewered and grilled over an open flame or charcoal grill until it is crispy and charred on the outside and tender and juicy on the inside.
Available at roadside stalls and sit-down restaurants, nyama choma is usually served with beer and a variety of side dishes, such as ugali, kachumbari (a salad made with tomatoes, onions, and chili), or sukuma wiki (a leafy green vegetable). It can also be accompanied by different sauces, such as tomato or chili sauce, to enhance the flavor of the meat. Nyama Choma is equally popular in Kenya, where it's considered a national dish.
Nyama choma, grilled meat prepared in traditional way over fire on a Maasai market in Tanzania
Kuku Paka
Indian cuisine has had a significant influence on food in Tanzania. One example is kuku paka, kuku paka is an African-Indian-Arabic fusion dish that consists of chicken cooked in a creamy coconut-based curry sauce. Kuku in Swahili means "chicken" while paka means "to smear, spread, or apply".
Char-grilling the chicken before drowning it in sauce is the key to making a good kuku paka. This gives it that delicious smoky flavor that goes so well with the coconut-based curry. 
Kuku paka is a dish that is often served in local restaurants and street food stalls, especially in the coastal regions of Tanzania. The dish is not only delicious but also nutritious, providing a good source of protein, fiber, and healthy fats.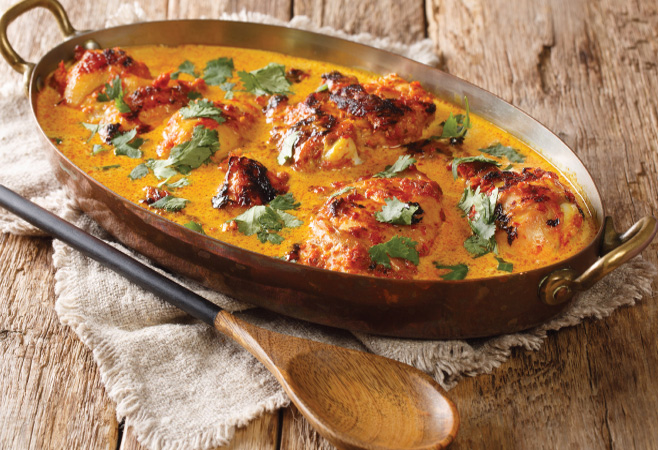 Kuku paka is an African-Indian-Arabic fusion dish that consists of chicken cooked in a creamy coconut-based curry sauce
Mshikaki
Mshikaki is a common food in Tanzania made with marinated beef. Ginger, lemon, and hot peppers are used to season the meat, which is skewered and grilled over charcoal.
Mshikaki is often eaten as a snack, usually with roasted potatoes in a pairing commonly known as "chips mshikaki". Smoked or roasted plantains and fried cassava can also be enjoyed with Mshikaki.
Tanzanian street food vendors will grill and sell mshikaki by the side of the road in the evening. Travelers can find Tanzanians enjoying mshikaki at groceries, bars, and music clubs and drinking beer and other alcoholic drinks.
Mshikaki is a famous and popular food in Tanzania made with marinated beef
Best Time To Visit Tanzania For International Travelers
Tanzania is a great place to visit year-round for foodies. The country's diverse cultural heritage has contributed to a rich and unique culinary tradition with a variety of flavors, spices, and ingredients.
If you are interested in trying traditional food in Tanzania, then the best time to visitwould be during the dry season, from June to October. During this time, the weather is pleasant, and it is easier to access the different regions of the country. Many lodges and restaurants also offer special menus featuring traditional Tanzanian dishes, such as Ugali and Wali na Maharage, during this time.
Another best time to visit Tanzania for foodies would be during the annual Nane Nane Agricultural Exhibition, which takes place in August. This event brings together farmers and producers from different regions of the country to showcase their products, including fresh fruits, vegetables, and spices. Visitors can sample a wide range of fresh produce and also attend cooking demonstrations and workshops to learn more about traditional Tanzanian cooking.
Cultural food in Tanzania is rich and diverse, offering a unique culinary experience for foodies. From traditional dishes to popular and famous ones, Tanzania has a lot to offer. So if you're planning to visit Tanzania, make sure to try some of the country's unique and delicious dishes. However, if your country is not on the Tanzania visa exemption list, you need to apply for a visa to enter Tanzania legally. But don't worry, the Tanzanian government established an electronic visa system in 2018, allowing citizens of eligible countries to apply for a visa from the comfort of their homes. At Tanzania Immigration Services, you can apply for a Tanzania e-visa quickly and easily by filling in the application form. Before applying, you can read more about Tanzania visa requirements for international visitors here. We also recommend you should buy Tanzania Travel Insurance. With Travel Insurance, your traveling experience will be more amazing and guaranteed.