Tanzania visa requirements for Congolese citizens
Tanzania visa for Congolese citizens (The Democratic Republic of the Congo)
Tanzania is an East African country best known for Mount Kilimanjaro, Africa's highest peak, which is located in the country's northeast, and the archipelago of Zanzibar, a popular tourist destination. For a variety of reasons, over 1.5 million international visitors visited the country in 2018.
Follow the instructions in the article below to apply for a Tanzania visa for Congolese citizens.
1. What is the Tanzania e-Visa for Congolese citizens?
Only citizens of a few countries are permitted to enter Tanzania without a visa. The Tanzanian Government has recently introduced the e-Visa for the majority of the remaining ones. This latest system is entirely online, and its goal is to streamline the Immigration process, significantly reducing the time required to obtain a visa. The eVisa also eliminates the need to apply for a visa in person at an Embassy or Consulate.
Citizens of Congo can also apply for the Tanzania e-Visa online and receive their e-Visa via email. The electronic travel authorization allows travelers to enter Tanzania for up to 03 months for tourism, leisure, or short-term medical treatment. There are 04 types as following:
A single-entry tourist visa for Tanzania allows the Congolese traveler to visit the country for travel, tourism, short-term health treatment, or other activities permitted by Tanzanian law. With this type of visa, Congolese nationals can stay in the country for 03 months from the date of entry.
A multiple-entry Tanzania tourist visa for Congolese is designed for those who visit the country frequently. This visa is valid for 12 months from the arrival date and allows travelers to stay in Tanzania for up to three months at a time.
A transit visa is available for travelers transiting through Tanzania on their way to another destination and intending to stay in the country for no more than 07 days.
A Tanzania business visa is available for professionals working in the country on a temporary basis or for Congolese nationals looking to invest in Tanzanian business. The visa's validity period is within 03 months, allowing Congolese nationals to enter the country once and stay there for 03 months from the arrival date.
Tanzania e-Visa for Congolese citizens.
2. Tanzania visa requirements for Congolese citizens.
During the online application process, travelers must fill out an e-Visa application form and submit all required documentation.
The following documents are required for Congolese citizens:
A copy of a passport that is valid for at least 06 months from the date of arrival in Tanzania, with a minimum of 02 blank pages for verification.
A copy of the passport biographical page.
A photograph that was taken within the last 06 months with a clear face against a white/plain background.
You will also be required to submit your return flight ticket to immigration authorities to ensure that you do not exceed the visa's three-month limit.
If you want to apply for a Tourist multiple entry 1 year e-visa, you also need to provide an invitation letter from a tour host with his/her ID. For a Business e-visa, an invitation letter from the organization and a certificate of insurance need to be submitted.
Tanzania visa requirements for Congolese citizens.
3. How to apply for the Tanzania visa for Congolese passport holders?
The Tanzania e-Visa application process from Congo is very simple. All travelers will need is a reliable internet connection and all necessary documents.
Travelers must provide the following information when filling out the application form:
Personal information: full name, birth date, and country of citizenship
The passport number.
Type of visa, port of arrival, the processing time for an e visa service.
Date of arrival in Tanzania/ departure date.
A valid email address for future correspondence.
After submitting the application and making the payment, applicants will receive a confirmation email informing them that their request is being processed.
It is critical to ensure that all of the information provided is correct and that the documents are up to date in order to avoid delays or denial of the e-Visa.
When receiving your online travel permit, you should print a copy in case you need to show it at border controls. It is also beneficial to keep a copy with you throughout your stay in Tanzania.
Read more : Apply for a Tanzania Visa Online (e-Visa) .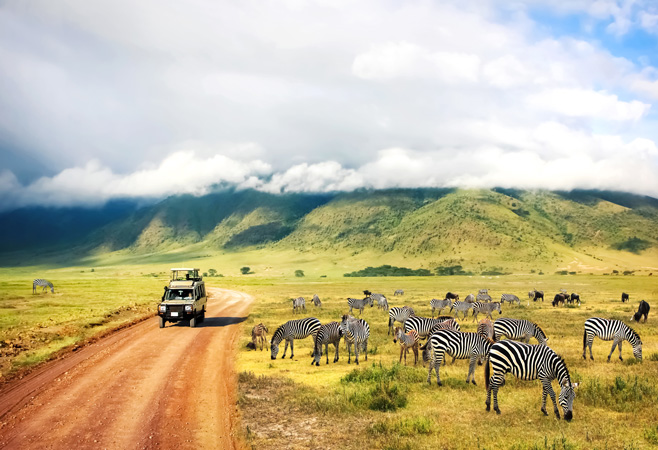 Apply for the Tanzania visa for Congolese passport holders.
4. Cost of Tanzania visa from The Democratic Republic of the Congo.
The Tanzania visa fee for Congolese citizens varies depending on the type of visa and the number of entries of the applicant's visit. To apply for a Tanzania visa from The Democratic Republic of the Congo, you must pay two (02) types of visa fees: the Service cost and Government cost.
Read more : Tanzania e-Visa fees .
You can get your e-Visa quickly instead of waiting weeks for your local embassy to process your visa application. All you have to do is apply for an e-Visa from your computer, tablet, or phone and wait for it to arrive via email. You have a variety of processing times options in the following list:
Tanzania Standard e-Visa : is processed in 03 business days. It's a good option for non-urgent and low-budget requirements.
Tanzania Urgent e-Visa : If you select this option, your visa will be processed within 02 business days.
Tanzania Super Urgent e-Visa : The application will be completed within 01 business day.
Read more : Tanzania Visa processing time .
When you have COVID-19 Insurance , your traveling experience will be more amazing and guaranteed at this time.
Tanzania visa from The Democratic Republic of the Congo.
5. Tanzania e-Visa processing time for Congolese Citizens
Because the Tanzania tourist visa application process is quick and simple, visas are typically processed in a maximum of 03 business days. However, requests that are complete and accurate are frequently approved sooner.
The visa fees for Congolese visitors may vary depending on the type of visa chosen at the time of application.
To avoid any inconvenience, Congolese travelers should submit their applications as soon as possible to allow enough time for the immigration authorities to carefully review the application submitted and request any additional documents or information.
Useful information: