Tanzania visa requirements for Chilean citizens
To enter Tanzania for tourism, work, or study, anyone traveling on a Chilean passport must apply for a Tanzania visa for Chilean citizens. It can be obtained upon arrival at the border by presenting the applicant's passport and supporting documents. However, immigration control is notorious for frequent delays, and long lines are common during peak times.
1. What is the Tanzania e-Visa for Chilean citizens?
A new system, much more efficient than applying in person, has recently been introduced for several nationalities, including Chileans. The simple electronic application form is simple to use and allows applicants to pass through immigration and border control much faster.
Tanzania's e-Visa application is entirely online. Foreign nationals do not need to make an appointment at the Embassy to complete their application; they can do so from their smartphone or computer.
Travelers can use the information on this page to determine who requires a visa for Tanzania and how to apply online.
Tanzania e-Visa for Chilean citizens.
2. Tanzania visa requirements for Chilean citizens.
To apply for a Tanzania visa online from Chile before traveling, Chilean citizens must meet the Tanzania visa requirements. The following documents must be submitted with the Tanzania tourist visa application:
A valid Chilean passport for at least 06 months with a minimum of 02 unused pages is required upon arrival in Tanzania.
A scan of the passport biographical page.
A photograph that was taken within the last 06 months, with your face is clear against a white/plain background.
An email address to receive the result of Tanzania e Visa application.
When entering Tanzania, Chilean visitors must also show proof of their return flights to Chile or any other onward destination, as officials will check that the applicant's travel plans correspond to the time limit imposed by the visa.
For a Tourist multiple entry 1 year e-visa: An invitation letter from the host with his/her ID will be required.
For a Business e-visa: You need to attach an invitation letter from the organization and a certificate of insurance.
Tanzania visa fees can be paid online with a credit card at the same time as the application. Rates for Chilean passport holders vary depending on the type of visa and length of stay.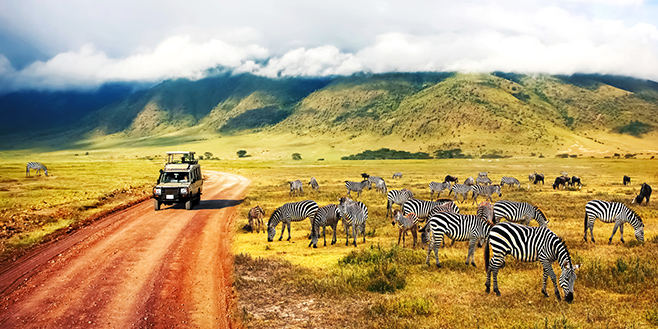 Tanzania visa requirements for Chilean citizens.
3. Types of Tanzania e-Visa from Chile.
Chilean visitors to Tanzania must apply for the appropriate visa, which is determined by their reason for visiting the country and the length of their stay:
A single-entry tourist visa for Tanzania that allows the traveler to stay in the country for up to three months for tourism and leisure, short-term health treatment, or any other activity permitted by Tanzanian law.
A 01 year Tanzania tourist visa that allows the holder to visit the country frequently over a short period of time. This visa is valid for 12 months from the arrival date and allows travelers to stay in Tanzania for up to three months each visit with multiple entries into the country.
A transit visa is available for Chilean travelers who want to stay in Tanzania on their way to another country for no more than 07 days.
A Tanzania business visa is issued to Chilean citizens visiting the country to fulfill professional obligations, conduct research, or hold business meetings, and allows for a stay of up to 03 months from the date of arrival. This type of visa is valid for 03 months with a single entry.
4. How to apply for a Tanzania visa for Chilean passport holders online?
Once travelers are confident that they have chosen the correct visa and meet all of the requirements for Chilean citizens to travel to Tanzania, they should spend a few minutes completing the Tanzania e-Visa application form.
The form requests basic personal and passport information, such as the applicant's full name, date and place of birth, passport number, and information about the applicant's travel date. Before you submit, make sure to carefully read the disclaimer's terms and conditions.
As part of the e-Visa application process, all Chilean citizens are required to provide a current email address to which confirmation of receipt of the application will be sent.
Apply for a Tanzania visa for Chilean passport holder
5. Cost of Tanzania visa for Chileans.
The Tanzania visa fee for Chilean citizens varies depending on the type of visa and the number of entries of the applicant's visit. To apply for a Tanzania visa from Chile, you must pay two (02) types of visa fees: the Service cost and Government cost.
Read more: Tanzania e-Visa fees .
You can get your e-Visa quickly instead of waiting weeks for your local embassy to process your visa application. All you have to do is apply for an e-Visa from your computer, tablet, or phone and wait for it to arrive via email. You have a variety of processing times options in the following list:
Tanzania Standard e-Visa: is processed in 03 business days. It's a good option for non-urgent and low-budget requirements.
Tanzania Urgent e-Visa: If you select this option, your visa will be processed within 02 business days.
Tanzania Super Urgent e-Visa: The application will be completed within 01 business day.
When you have Tanzania travel Insurance , your traveling experience will be more amazing and guaranteed at this time.
Tanzania visa fees for Chileans.
Useful information: